LOOK: Angel, Jasmine, actors' group give relief goods to typhoon victims in Marikina
Angel Locsin, Jasmine Curtis-Smith and fellow members of the group Aktor (League of Filipino Actors) handed out relief goods to Typhoon Ulysses victims in Marikina City yesterday, Nov. 13.
The group carried out four rounds of distribution with the help of volunteers, as per Curtis-Smith's Instagram post on the same day.
View this post on Instagram
The team also followed precautions against COVID-19, such as wearing a face mask and face shield, as they gave the relief goods. While they worked to assist those severely affected by the recent typhoon, Curtis-Smith could not help but lament the wreck it left in its wake.
"We hope that what small help we can give will be able to assist you the next couple of days… and we pray for those who are still trying to manage with [what's] left of their homes," she said.
Prior to the distribution, the Aktor members and volunteers repacked the relief goods in the Taumbayan bar in Kamuning, Quezon City. Among the team were Sunshine Dizon, Paolo Paraiso, Dingdong Dantes, Agot Isidro, Jerom Canlas and Iana Bernardez, as seen in Locsin's post.
View this post on Instagram
The group began calling for donations yesterday and have teamed up with the Catholic Bishops' Conference of the Philippines, Caritas Philippines, Dantes's YesPinoy Foundation and the Andrew's Fund PH for the effort.
Those interested in giving in-kind donations such as face masks, clean water, medicine, blankets, clothes and canned food should drop them off at the Taumbayan bar.
Meanwhile, monetary donations can be transferred to the following bank accounts of the CBCP Caritas Pilipinas Foundation:
Alay Kapwa account:
BPI – 4951 0071 08
United States account:
Metrobank – 632 2 632 00293 3
Euro accounts:
Metrobank – 632 2 632 60023 7
Metrobank – 632 7 632 02832 2
Typhoon Ulysses battered parts of Luzon from Wednesday night until Thursday morning. The damage it caused has been compared to that of 2009's Typhoon Ondoy, when Marikina was also one of the cities hardest hit by the calamity. NVG
RELATED STORIES:
Angel Locsin, actors' group call for donations for Typhoon Ulysses victims
Nadine Lustre calls out using Filipino resiliency to 'hide the real problem'
The hottest entertainment news straight to your inbox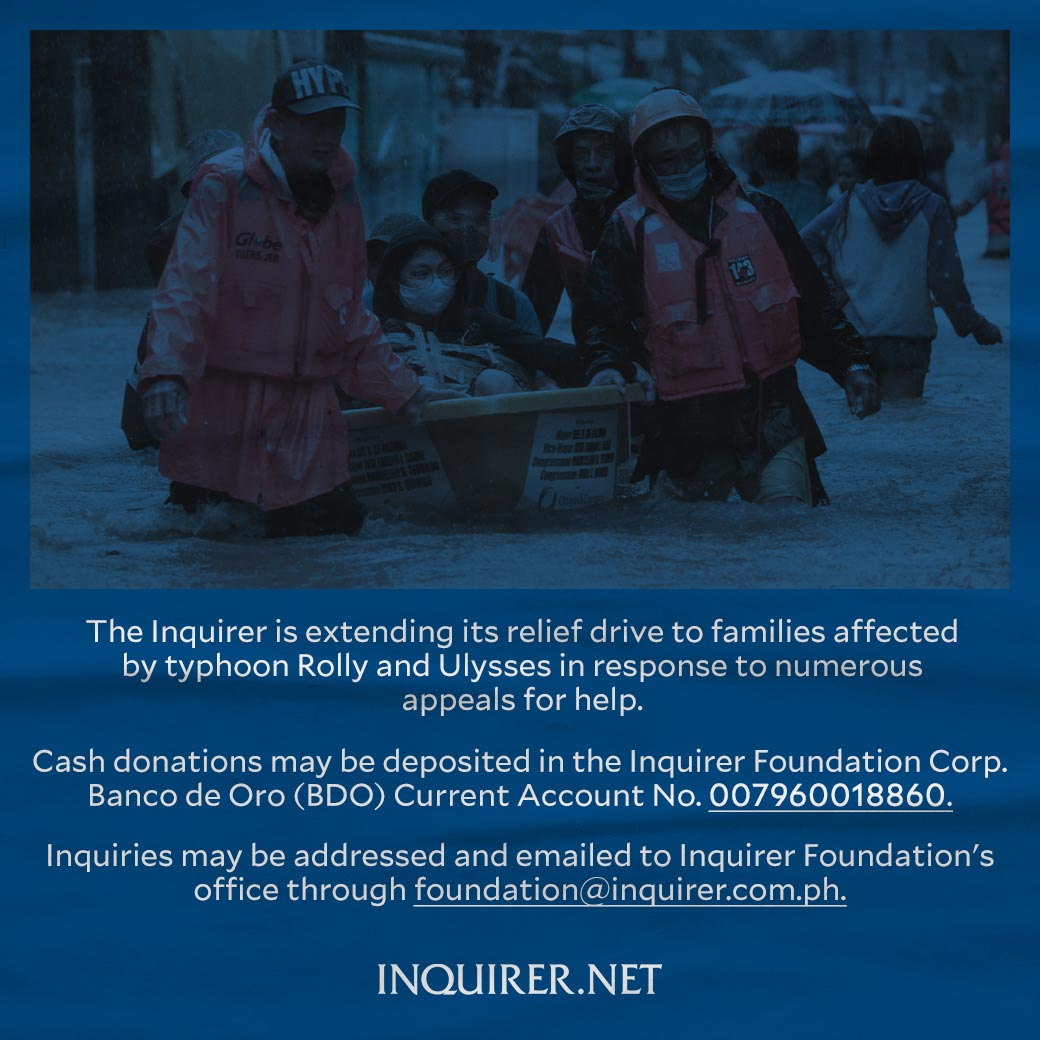 Subscribe to INQUIRER PLUS to get access to The Philippine Daily Inquirer & other 70+ titles, share up to 5 gadgets, listen to the news, download as early as 4am & share articles on social media. Call 896 6000.