Nadine Lustre calls out using Filipino resiliency to 'hide the real problem'
While Nadine Lustre agrees that Filipino resiliency is something to be proud of, she believes it should not be used to divert attention from issues that the Philippines is facing.
The actress and singer spoke about the Filipinos' capacity to face issues on her Instagram page yesterday, Nov. 12 as Typhoon Ulysses battered parts of Luzon.
"Our country has been [through] so [many] issues (calamity, pandemic, economy, job losses) and it upsets me so much when people pull out 'Filipino Resiliency' as a quick fix," she said.
"It's [definitely] something to be proud of, but really, how long are we gonna keep using that to hide the real problem?" Lustre asked.
View this post on Instagram
She then expressed her sympathy for those who were gravely affected by the storm that forced many to evacuate their homes.
"Our country deserves so much better than this," Lustre stressed.
Lustre also urged those who were not severely affected by the storm to "check [their] privilege."
Typhoon Ulysses ravaged parts of Luzon from Wednesday night until yesterday morning. The damage it has wrought has been compared to that of 2009's Typhoon Ondoy.
As with Ondoy, Marikina is among the cities hardest hit by the typhoon. Marikina Mayor Marcy Teodoro sought help from the national government in rescue efforts, explaining that his city's resources were "overstretched." The city is currently in a state of calamity, which will allow the city government to use its calamity funds to aid the affected residents and provide a mechanism for price control on basic commodities. NVG
RELATED STORIES:
Nadine Lustre warns of fake Twitter account using her name, photos
Nadine Lustre's Josie Rizal cosplay praised by Tekken director: 'Perfect'
Angel Locsin, actors' group call for donations for Typhoon Ulysses victims
The hottest entertainment news straight to your inbox
Click here for more weather related news.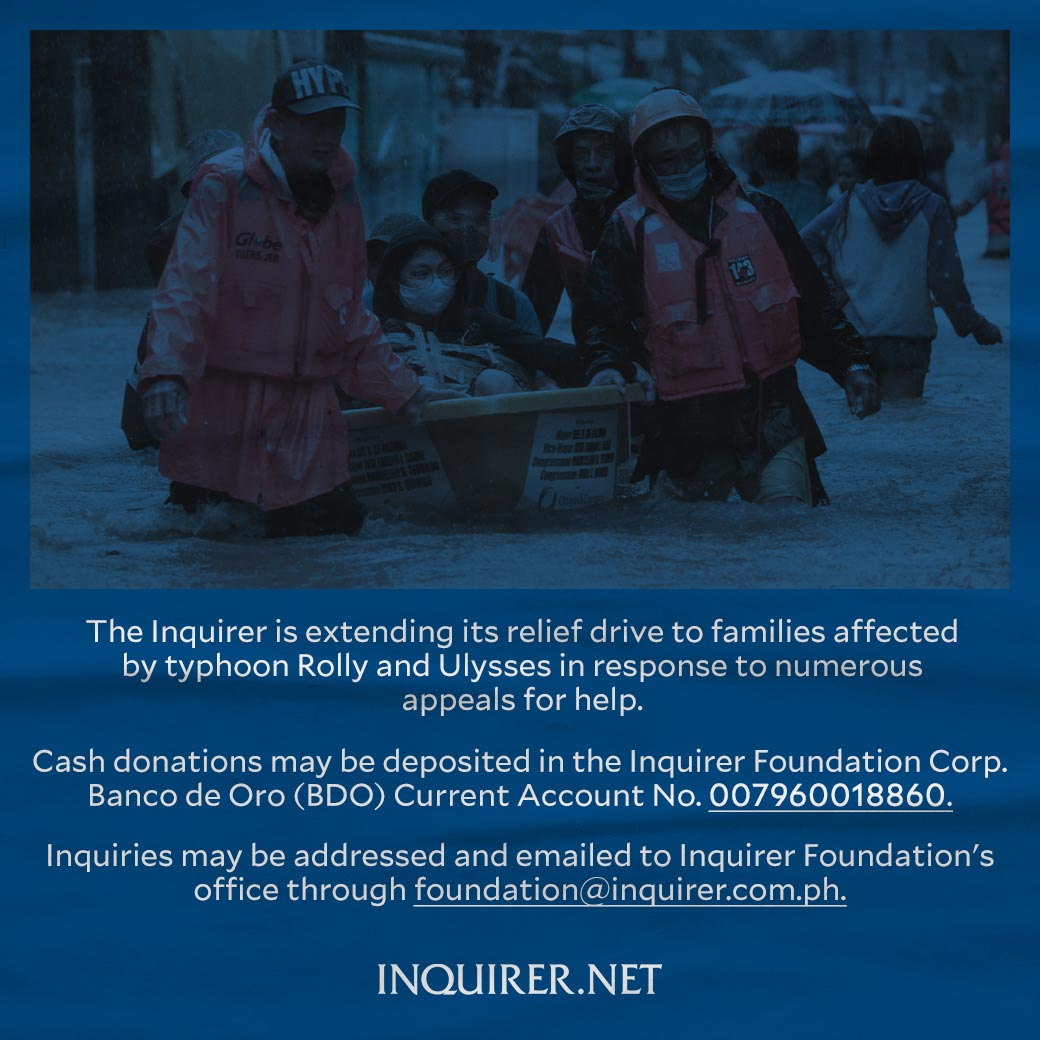 Subscribe to INQUIRER PLUS to get access to The Philippine Daily Inquirer & other 70+ titles, share up to 5 gadgets, listen to the news, download as early as 4am & share articles on social media. Call 896 6000.